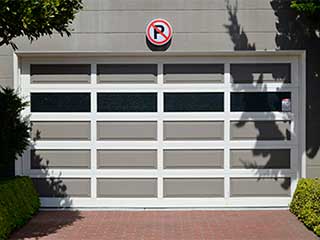 Homeowners all over the country will happily pour money into upgrading their property. However, when it comes to their garage door, few people bother to invest in something that will really benefit them, settling for "good enough" instead. A new door can bring many benefits to your home, from increased security and curb appeal to lower energy consumption. In this blog post we break down just a few of the reasons why a new garage door is a great investment.
Providing Improved Security
A lot of people keep some valuable belongings inside their garage, and thieves know this. If this room is attached to your house, as is often the case, then burglars can even manage to get into your home by using your garage as an access point. That's why it's essential that is has a strong, secure door that can keep even the most determined criminal at bay. Look for doors with panels made from steel, with multiple lock points that provide enhanced security. Bear in mind, also, that security improvements can save you money on your home insurance, so this could prove to be a wise financial investment as well.
Save Money On Energy Bills
It's a good idea to keep your garage at a similar temperature to the rest of your house, if it's attached. If it's significantly colder or warmer than the rest of your home, it can compromise your energy efficiency, making it more expensive for you to maintain the indoor air temperature that you desire. Many new garage door models come with form-fitted insulation sheets or foam that helps keep the space at a reasonable temperature without making your HVAC unit work overtime. This has the added benefit of letting you work comfortably inside your garage when the weather is unpleasantly hot or cold outside.
Enhanced Curb Appeal
All too often, homeowners spend thousands of dollars on home remodeling without considering the look of their garage. A neglected door can easily spoil an otherwise beautiful home, and a well-kept one will have the opposite effect; it will improve it. For a touch of class, why not invest in something like Clopay's attractive faux-wood models? This combines the security of a steel garage door with the classic look of mahogany - very stylish.
Invest In A New Door Today
If you're thinking of investing in a new garage door, you'll have lots of questions. Our team is always ready to provide local homeowners with guidance, so don't hesitate to contact Garage Door Repair Sandy Springs today.