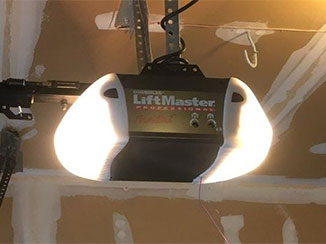 The device that automates the movement of your door is incredibly useful and convenient, but it can also be complex to handle when something goes wrong with it. There are all sorts of problems that such an electro-mechanical machine can suffer from, including problems with the sensors and the motor. Eventually your current unit will need to be replaced. Our team can fix it for you before that happens, or help you find a new model if the time for replacement has arrived. Both opener installation and repair can be difficult tasks to handle, especially if you don't have the experience and the professional training required to perform them safely. If you need some help, you've found the right experts to call.
A Few Different Types
Modern garage door openers come in many different models, but they all operate via one of four different drive-system types. Each system has its advantages, and knowing what they are will help you make the right choice.
The Reliable Chain
Models of this type are connect to the trolley (which is attached to the door) with the use of a metal chain, which is connected to motor on the other end. For this reason, they are not very silent and can be quite loud, so if your garage is directly attached to your house, you might want to consider a drive system that is less noisy. Chain drive opener models will also need to be lubricated regularly and their chain will need to be adjusted on occasion. They are, however, the most affordable type.
The Smooth Belt
These models operate similarly to their chain drive counterparts, but with a reinforced belt instead. This makes them incredibly silent, but also more expensive. A belt drive opener is a great choice, if you're willing to spend a little extra for comfort and quality.
The Wall Mounted Jackshaft
Jackshaft garage door opener units function by connecting directly to the torsion spring. They are attached to the shaft that holds the spring and can be mounted on the wall to save space. Therefore, if you don't have a lot of backroom or headroom space available, this type of unit can be an excellent choice for you.
The Direct Drive
Also known as screw drive openers, models of this type use a threaded rod to move the trolley. They are faster, and require less maintenance than their counterparts. However, they are loud and can be sensitive to changes in temperature. For these reasons, they are not as popular as other types.
Contact Us Today
If you're looking to get a new opener installed, or need to have your current unit's motor repaired, our technicians can help you. Our team at Garage Door Repair Sandy Springs is always ready to help, and we work with all of the industry's leading brands, including Craftsman, Genie, and LiftMaster.
Looking for more? We also offer:
Part Replacement & Lubrication
Garage Door Cable Replacement
Belt Drive Opener Installation
Garage Door Off Track Repair