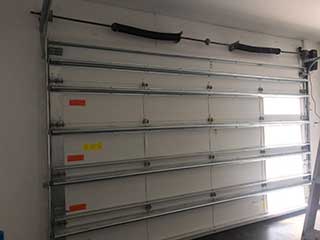 Sandy Springs, Georgia is a lovely and large city in the Atlanta metropolitan area. The city gets its name from actual springs that are today a part of the city's nature and historical reserve. These famous springs offer up to ten gallons of water a minute and represent one of the reasons the area became popular as long ago as 400AD. The springs that are causing frustration these days are not the natural mineral springs, but local homeowners' malfunctioning garage door ones. Luckily, we're here to help. If you're experiencing trouble with these components, we can help!
Springs Of All Types
Some homeowners will have a single torsion spring installed which uses torque movement to lift and lower the door while other garage door models will use a pair of extension springs, attached to each side of the door. Our technicians are trained to deal with all types and can perform any replacements or tension adjustments as needed.
Beware Of The Hidden Dangers
When something goes wrong it can be tempting to attempt to address the situation yourself. However, these components can be incredibly dangerous to handle if untrained - if they snap, they can go flying, causing potential injury or damage to anything or anyone around. Getting a licensed professional to deal with your worn or broken springs is always the wisest choice.
All Your Maintenance Needs
By scheduling routine maintenance checks, you'll be in a stronger position to avoid sudden breakdowns that will stop the functioning of your door. Our team can visit your property and double check that your springs are lubricated, rust-free and tight enough to continue operating safely in the near future. If one or more of your springs looks like it might fail soon, we can sort the replacement there and then so you don't have to continue to worry about it.
Contact our team at Garage Door Repair Sandy Springs for all your related needs - we're here to help you and we'll do our best to get to you quickly if it's an emergency.
But wait, there's more! We also offer:
Garage Door Safety Inspections
Garage Door Remote Clickers
Torsion Spring Adjustment
Track Replacement & Repair