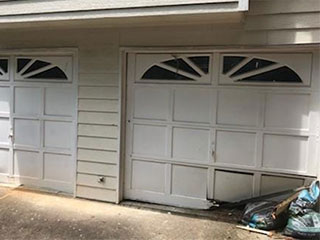 One click of a button and that's all you usually need to open and close your garage door. But behind all this simplicity is a complex system of springs, rollers, cables, tracks and levers that all need to be synced up and working properly for your door to operate as designed. Tracks can bend, springs can snap without warning, and remote controls can require reprogramming.
Suddenly, you may find that clicking a button no longer has the same effect. Don't panic: our team of technicians has plenty of experience when it comes to dealing with these kinds of emergency, and will arrive ready to put things right in no time.
Can Springs Wear Out?
Garage doors are lifted off the ground, and lowered back down again with the help of springs: tense, coiled devices designed to harness force and release it as required. Because these springs carry the entire load of your door, they are especially subject to strain – and may be liable to weakening or even snapping if not properly and regularly maintained. Neglecting your door's springs is asking for disaster: a rusted spring can jam, leaving you locked out and unable to access your property.
A spring that snaps suddenly can also cause damage to the surroundings and injure someone within range when it breaks. Look for signs that your springs may be weakening –if your door creaks and groans as it rises or drops closed too quickly, this can be a sign that they're struggling.
What If the Opener Is Playing Up?
Your garage door is a complex machine, meaning that when something goes wrong, the solution is usually mechanical in nature. Our technicians can usually solve the issue, once they have identified the root of the problem. Your opener is a complex piece of technology – when it comes to problems here, it may be down to wiring, a damaged circuit board or faulty safety sensors. Our technicians will be able to troubleshoot the problem and solve it.
What Can I Do About Dents?
Garage doors open and close by running along specific tracks, a lot like a railway system. The weight of the door can put strain on these tracks, and over time, cause small dents and bends. If left to grow bigger and more serious, these defects can cause your door to grind to a halt. Our team of repair specialists will be able to advise you on whether your tracks can be fixed on site, or if a replacement is needed.
Call Us Today
Garage door acting up? Our experts at Garage Door Repair Sandy Springs are waiting for your call.
Count on us for:
Garage Door Tune Up Services
New Opener Remote Controls
Extension Spring Adjustment