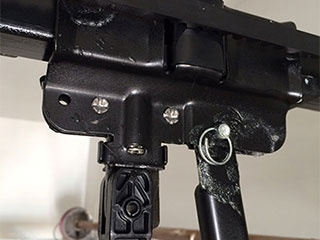 A typical residential garage door can weigh anything from 130 to 300 pounds. That makes these systems potentially dangerous, something that manufacturers figured out many years ago. Ever since 1993, opener models are required to have a safety reversal feature to prevent them from closing the door while there's an obstacle in its way. In order to keep you and your family safe, modern models have been fitted with additional safety mechanisms that help to prevent accidents and minimize the potential dangers.
Auto Reverse Mechanism

All modern garage door opener models have an integrated auto-reverse feature that prevents them from closing if the panels meet resistance on their way down. As soon as the opener senses resistance, it should automatically pull the panels back up again. Use a block of wood to test this – place it under the door, where the sensors can't detect it, and see if the system reversers as soon as the panels touch it. The force limit may need to be adjusted if your opener fails this test.

Checking The Balance

All modern automatic door systems are designed to be balance. This means that even if the opener fails, and they're no longer being pulled up or down, they won't simply slam shut on whatever's below them. However, as the springs that provide this balance begin to wear out, they become weaker. This means that as the years go by, your door will need to be checked and re-balanced more frequently. To test this, disengage your opener and manually lift your door until it's halfway open. If the panels can't stay in place, spring tension adjustment will be required. This is too dangerous of a task for you to perform on your own, so be sure to get in touch with our team to have our experts handle it.

Safety Sensor Alignment

In order to prevent a scenario where the door closes on people or objects in the first place, modern openers use a pair of photo eye sensors. These units are attached to either side of the lower parts of the tracks, which allows them to send an infrared beam between each other, and across the threshold. If this beam is interrupted for some reason, the opener will immediately stop and reverse the door. You can test this feature by obstructing the beam while the door is closing. Do this by waving a broomstick in front of the sensors. If the door does not reverse, the photo-electric eyes may need to be repositioned, or even replaced. Let our experts know and we'll make sure to quickly solve the problem.